Kaurihohore / Kamo Co-operating Parish
Sharing God's love, creating hope, working for justice.
Kauri Carols 15 December 2023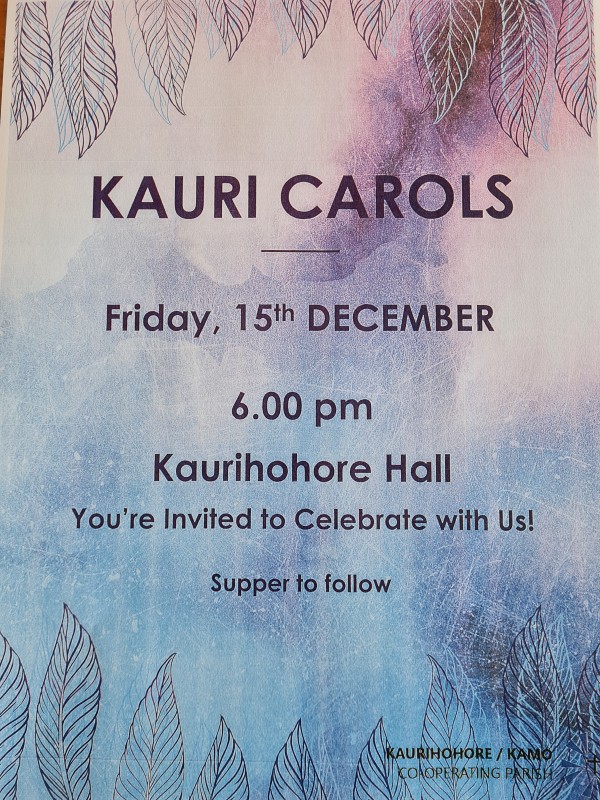 In working together on our shared mission, we commit to the following values:
Togetherness: we cultivate genuine opportunities to gather together in worship and fellowship.
Humility: we recognise we do not have all the answers but are prayerfully journeying together as we try to seek them.
Curiosity: we are committed to a life of learning, questioning, and exploring the mystery of God, Jesus, and the Bible.
Love: we are committed to selfless love to all, including those marginalised by society and the wider church.
Inclusive: we recognise the full equality of the entire human family to share in ministry, leadership, and worship, regardless of race, age, physical ability, neurodiversity, marital or economic status, gender identity, or sexual orientation.
Justice: we hope for a better world for all and work together to be part of making that happen.
Sustainability: we care for and strive to restore the integrity of the Earth and all of creation.
Building Better Communities
Between July and September 2023 we gathered on Wednesday evenings in Te Kamo for a series of community conversations focused on important social justice issues raised in the Salvation Army's State of the Nation Report 2023 (Children and Youth; Work and Incomes; Housing; Social Hazards; Māori Wellbeing; Crime and Punishment). Each conversation was led by a local expert and gave members of the community an opportunity to hear how others see these issues and express their own point of view.
We're keen to hold more community conversations in 2024 and are interested in what topics you think our community should be discussing. Please get in contact at [E-Mail not displayed] to let us know your ideas.
Sunday Services
10:00am every Sunday
All welcome
Contact Us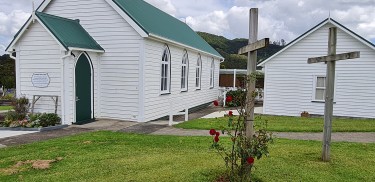 Kaurihohore Historic Church, 59 Apotu Road, Kauri, Whangārei
PO Box 4118
Te Kamo
Whangārei 0141
New Zealand
(09) 946 0813
Our Team
Presbyter: Rev Freddy De Alwis
Telephone: 09 946 0813
Mobile: 022 158 8661
Please contact the following through the office:
Worship Team Convenor - Richard
Education Team Convenor - to be confirmed
Pastoral Team Convenor - Rosalie
Community Team Convenor - Valerie
Fellowship Group - Lois
Girls Brigade - Kerry
Communication and Publicity Team Convenor - Mike
Property and Finance Team Convenor - Jane
Future Team Convenor - Mike
Service Sheet
December 2023
Service for Sunday 10 December - prepared by Rev Freddy De Alwis
Hymn: Christ Be Our Light
Hymn: Forgive Our Sings As We Forgive
Hymn: Tell Out My Soul
Hymn: Come Thou Long Expected Jesus
Service for Sunday 3 December - prepared by Jane Garrick and Richard Smith - Lay Preachers
Hymn: Come Thou Long Expected Jesus
Hymn: Have Thine Own Way
Hymn: I Need Thee
Hymn: O Come, O Come Emmanuel
November 2023
Service for Sunday 20 November - prepared by Richard Smith, Lay Preacher
Hymn: All People That On Earth Do Dwell
Hymn: Our Father in Heaven
Hymn: We Have a King Who Rides a Donkey
Hymn: Now To Your Table Spread
Hymn: Lord Be My Vision
Hymn: Te Aroha
Service for Sunday 19 November - prepared by Mike Nielsen, Lay Preacher
Hymn: Filled With Awe We Come Before You (Tune: Nettleton)
Hymn: God, Make Us Agents of Joyful Rebellion
Hymn: Dare To Live The Dream God Gives You (Tune: Hyfrydol)
Service for Sunday 12 November - prepared by Kimberley Nielsen, Lay Preacher
Sermon Link - Listening to Snakes and Bridesmaids by Nadia Bolz-Weber (Sermon starts at 38.00)
Hymn: Christ Be Our Light
Hymn: Lord Be My Vision
Hymn: Just As I Am
Hymn: O Love That Will Not Let Me Go
Service for Sunday 5 November - All Saints Day Service - prepared by Revs Freddy De Alwis and Alan Upson
Sermon for Sunday 5 November - All Saints Day Service - prepared by Rev Freddy De Alwis
Hymn: Praise to the Lord, The Almighty
Hymn: Give Thanks for Life
Hymn: I Heard the Voice of Jesus Say
Hymn: God is Here
Hymn: This, This is the God We Adore
Kaurihohore Cemetery Blessing Service 5 Novmber - prepared by Revs Freddy De Alwis and Alan Upson
October 2023
(Apologies that we are unable to include the Reflection section of the Liturgy this week)
Hymn: What a Wonderful World
Hymn: Great is They Faithfulness
Hymn: Jesus Loves the Little Children
Hymn: This is My Song
Agnus Die Live at Festival of Hope Lviv Ukraine
Hymn: Tell Out My Soul
Hymn: Be Still, For the Presence of the Lord
Hymn: I Heard the Voice of Jesus Say
Hymn: We Give Thanks
(Tune: What A Friend We Have in Jesus)
Hymn: God is Here, As We His People
Hymn: For the Healing of the Nations
Hymn: Lead Us Heavenly Father, Lead Us
Hymn: Come Teach Us, Spirit of Our God
Hymn: God Weeps
Hymn: O Jesus I Have Promised
Hymn: Great is Your Faithfulness
Hymn: Praise to the Lord, the Almighty
Hymn: Come Teach Us, Spirit of Our God
Hymn: All Hail the Power of Jesus' Name
Hymn: Alleluia, Allleluia
Hymn: When I Needed A Neighbour
Hymn: Rejoice the Lord is King
For copies of earlier services please contact our Parish Administrator - [E-Mail not displayed]
Contact Kauri / Kamo Co-operating Parish